Thank you to Cube Dog for sponsoring this review. For more information about Cube Dog please visit the Facebook page or download it on iTunes.
Cube Dog is an incredibly cute pet App for your iPhone. You can customize man's best friend to create a quirky, fun-loving boxy little pal that will entertain and adore you! You start by building your cube dog and piecing him/her together as you see fit and customize the features and colors! Then you can play and take photos "on location" of your perky little pet.
The creators of this clever little app describe it as:
Cube Dog is a free app where you can create a customizable virtual dog from start to finish. Once you've created your dog, you're ready to play! The app includes cool features like the ability to photograph your dog on-location using your iPhone camera. Plus, Cube Dogs can do everything from fetch a bone to play baseball!
Check out the this video to get just a glimpse of the fun that awaits you.
Oh, and did I mention the best part? It's FREE!
Yep this cubey little bundle of joy can reside pleasantly on your iPhone at no cost to you!
Rolodex Ninja
Here you can see my Cube Dog attempting to break bad on the Rolodex. I don't know what on earth that Rolodex did to offend my little pink friend, but he sure wasn't gonna take not crap off of it. I don't blame him really. There are some pretty scary people in that little collection of phone numbers. Then again, anyone can come off a cranky when they only time you call them is 3am. Ah the life of a night shift nurse. Old cubey-McGee (still working on the name) here knows what it's like. Guess that's why he had to step up and prove he could go all badass at any moment.
ZAGGsparq Lounge
And now my cube down is perched on the edge of my ZAGGsparq 2.0 (that my husband dropped, and broke! and I had to do some redneck engineering to make work again!). He's just hanging out. minding his business. It's a good thing the ZAGGsparq didn't grind his gears, since I would certainly hate for him to go Ninja on that.
These are just a couple of examples on the ways that Cube Dog can be manipulated and changed to create sweet pictures to share with your friends. It also integrates uploading to twitter/facebook and email directly into the app!
Additional Customization Options
There are also optional upgrades to appearance and gestures that are available for a nominal fee via in app purchase. So if you want to make your Cube Dog something truly unique, then you've got more choices! You imagination can run itself up a tree!
Cube Dog is available on the following devices:
- iPhone 3GS
- iPhone 4
- iPod Touch 3rd generation
- iPod Touch 4th generation
And requires iOS 4.0 or higher to operate.
Cube Dog Contest!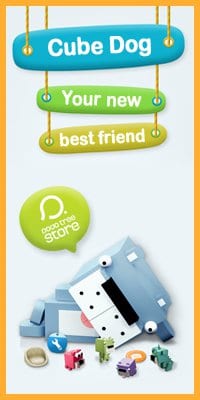 Cube Dog will be running a contest on their Facebook page from June 13-17 so be sure to check them out for some awesome goodies! So you should probably go ahead a pop over there and like them, so you won't miss out.
It's Cute and Fun
Overall I really enjoyed playing with the Cube Dog app. My little boy had fun too! It's a good thing too because it's likely the closets thing to a real puppy that Ty will be experiencing for a long time. Unless I break weak and get him one, even thought I KNOW the incredibly huge hassle and headache it will be. The things we do for the love of our children.
So check out Cube Dog. Customize your pet with different colors and well, cubes, of course. Make him dance the funky chicken, or whatever other crazy little moves they have built-in there for you, and try not to let him/her go ninja on any of your things. I told mind that the Rolodex was going to come out of his kibble budget.
He was not amused.
While Cube Dog provided me with the app to review, the opinions I've expressed here are solely my own and represent my honest viewpoint. Cube Dog, Clever Girls Collective and I promote Blog With Integrity.