Need to Learn the Alphabet? There's an App for that!

One of the primary reasons I purchased the iPad was because I knew it would be beneficial to my little boy. I was right!
At 2 Ty is able to fully identify his all of his letters and numbers. I owe it to educational toddler Apps like Super Why and others.
iCan ABC
Developed by MonkeyBin, iCan ABC is a fantastic example of the iPad's charm and benefits to a learning child.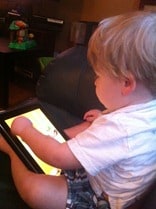 Via iTunes, the generic description is as follows:
A game all about learning the alphabet.
iCan ABC is carefully crafted with the young ones in mind. There are no ads, no sneaky buy this or that links and no integrations with services outside the app. The menus are simplistic and straight forward, everything is made in such a way that the entire game can be navigated and controlled by your preschool children.
iCan ABC is available for both iPhone and iPad in an HD version for $0.99 and $2.99 respectively. And While I typically stick to the free Apps, I fully believe that you get every bit of the bang for your buck when it comes to iPad apps for your kids.
What Does a Toddler Think?
Ty LOVES this App! As you can see in this video, he was easily able to use this App and identify his letters.
Please Pardon the Chocolate Clothes… Pudding 1/Ty 0
He also found the character in the App charming and often giggled wildly when he was speaking.
Key features of this App :
Current Languages

Key Features

Designed by parents and teachers
Developed by parents
Tested on preschoolers
Soothing music
Graphics designed for the right ages
Different gameplay for all stages of learning the alphabet
Children safe game
Professional vocals for all letters and praises
Screenshots of the App:
There are 3 different difficulties to choose from and no hidden links to trick your toddler into buying additional in App upgrades. (FYI, if you haven't already disabled this feature on your iPad, I strong suggest you do so… unless of course you want to spend $20 on Farmville upgrades. Yep. My son is that talented. I imagine yours is as well!)
So What Are you Waiting for?
Download it Already!
For more information on MonkeyBin and their upcoming Apps be sure to follow @MonkeyBin on twitter, like their MonkeyBin on Facebook , and check out their website for additional details and upcoming products. Some of the Apps in the works are: iCan Spell, iCan Count, iCan Math and iCan Memorize.
Giveaway!
Or you Could win a Copy from us!
That's right! We have 3 download codes available for this clever little app and we're going to make it very simple to win.
Entry Period: 6/28/2011 – 7/15/2011
Entry Methods:
- Each entry requires a separate comment

Simply comment telling us why you want to win this App.
+1 This post for Google (button up top, EASY!)
Follow @MonkeyBin on Twitter
Follow @TheNerdyNurse on Twitter
Mention @MonkeyBin & @TheNerdyNurse in a tweet! Like This one

May repeat this daily for additional Entry

Tweet about this giveaway and link to this post (use that handy tweet button up top, please)

May repeat this daily for additional Entry

Share this giveaway on Facebook

May Repeat This Daily for Additional Entry
Please make sure you have included a contact method in your entry. Good Luck!
Disclosure: I was provided with a promotional code to test and review this app at no cost to me. Opinion stated are my own. I abide by FTC guidelines and fully disclose brand relations in additional I support and honor blog with integrity.